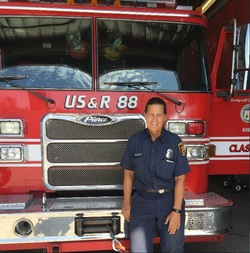 Congratulations to the LAFD Firefighter of the Month: Hollyn Bullock!!!

In late July, with the drought in full force, a series of rapidly spreading wildland fires sprang up in Central and Northern California. Within days, the fires had grown exponentially, spanning hundreds of thousands of acres and destroying scrub and forest growth. In mid-August, the Los Angeles Fire Department (LAFD) sent resources and personnel northward to help combat the widespread and aggressive flames.

Among them was Apparatus Operator (AO) Hollyn Bullock. A 25-year veteran of the department, Hollyn works in the LAFD's Urban Search and Rescue (USAR) division — a specialized unit that responds to large-scale rescue situations. The specially equipped USAR rigs are commonly put to work following earthquakes, trench collapses, or major traffic accidents and the firefighters who operate them are specifically trained. Because this type of training and equipment are rare, USAR resources are greatly needed in disaster zones such as the fire-stricken areas in Northern California.

After a 14-hour drive, Hollyn and her LAFD team arrived to the site of the Johnson Fire, one of the many fires burning in Norther and Central California. The Johnson Fire spanned 37,000 acres of wildland; Hollyn was based at a command center, an hour away. For the next two weeks, she lived out of a tent with only makeshift shower and kitchen facilities, staying in temporary "spike" camps closer to the fire to support crews working there at night.

"Our main duties were to locate lost firefighters and to support fallers," she explains, referring to the term for the firefighters who cut down the burned redwood trees. Her greatest takeaway from the experience at the Johnson Fire was the number of "awesome" firefighters she met — and how grateful they were for the LAFD's support.

Hollyn's willingness to help others is apparent, as she has volunteered in New York City after the September 11, 2001 attacks, and went to New Orleans following Hurricane Katrina. Making the decision to head north this summer was a little harder, she admits, because it meant leaving her partner, fellow LAFD firefighter Kristin Crowley, and their three young children. Ultimately, though, Hollyn knew she had to go. "All the other times I've traveled outside the city, I've never thought twice about it because I didn't have a family. Still, I talked to my kids about the fires and prepared them for when I went up north."

Hollyn is passionate about training firefighters in the tactics and skills used in rescue operations. Her dedication not only to Los Angeles, but to disaster-torn cities across the US is admirable, and her support of her fellow firefighters is nothing short of inspiring.